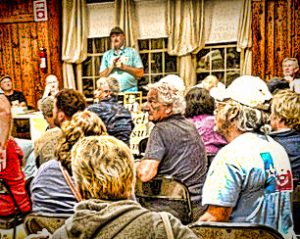 Group members are invited to enter finds on the Monthly find table, and earn points towards winning "Treasure Hunter of the Year".  All members vote for their favorites. If you like to hunt or are interested in learning more to help you with your hobby please come. Family members or friends are always invited to come, watch and listen.
Our Activities:
Membership
Raffles and drawings each meeting.
Presentations and Information about Metal Detecting
News and manufacturing updates.
Parties

Holiday party in December (Buffet, Yankee swap, end of the year collectable raffle drawing, membership gifts).

Voting Privileges

Finds Table each month.  Member share the items they found in the last 30 days.
As a member, enjoy voting in our Find of the Month competition, where entrants are judged for best finds in several categories and take home silver as prizes.

MTHA Newsletter

Keeps members up to date, as well as Find-of-the-Month statistics.

Webpages for Members Only

Member Pages are protected by a password given to each member. 
Here the latest statistics for Treasure Hunter of the Year; access to read the recording secretary's meeting notes; club documents you might need and  information on upcoming outings.
Information about other regional activities.

Library

The club has an excellent collection of books, video tapes, and historical maps for loan to members. Our book collections includes coin and relic identification publications; collectors ID books on everything from buckles to musket balls.
Generally, library items may be borrowed for a period of one month. At most meeting they are displayed and accessible to read or consult.
Borrowed items should be returned at the next monthly meeting for availability to other members.