26 Members attended
A great crowd attended this week. The meeting opened with a lot of medical updates. Our new member Mowdar attended, as well as a few other members who have found there way to ZOOM again. Everyone was enthusiastic about winter hunting
A few stories of recovery including Bob Eckel going out last week to recover a gold wedding band for someone in the Worcester area. We continue to help people who get in touch with us for help.
Mark showed us the 1955 double die coin that he won in the Year End drawing, with information on the rarity and worth of the coin. This led to a discussion on striking coins and using dies to produce coins. Don owns quite a few dies, showing us one.
Best Facebook Favorite " a photo that you found that pointed you to a detecting location. item that inspired you " was won by Scott for his bathing beach spot and his finds.
Best Facebook Finds went to: (more photos on the FB page)
1st Prize- Kent for 14K Gold Ring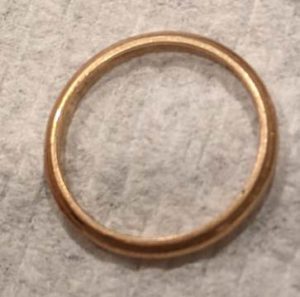 2nd Prize -Stepper for 1800 Large Cent
3rd Prize- Glenn for a Mercury Dime
4th Prize- Joe M for a Silver Ring
Bi weekly Raffle Prizes were won by: Kent (2) Judi,  Paulo and Bobby and Su
The Indian Head Drawing was drawn to be Marita , who did not win the 5 Silvers, more will be added for the next meeting.
The 50/50 Raffle was won by  Scott ($65)
And Don did not win anything again.